Event Calendar
Events Celebrations of Aeima Masoomeen at Masjid o Imambargah Hussainia A.S
Call Us Now for Web / Software Development
+923314999075
info@ikashits.com
www.ikashits.coms


62 Sora Jummah,
Ayat No. 2
" He it is Who raised among the illiterates an Apostle from among themselves, Who recites to them His communications and purifies them, and teaches them the book and the wisdom, although they were before certainly in clear error ."
Golden Quotes
Imam Ali a.s said:One who adopts patience will never be deprived of success though it may take long time to reach them - Nahjul Balagha.
Imam Ali a.s said:The man of learning is alive even after he is dead, The man of ignorance is dead even while is live.
Poetry / Poems
Syria – 'Insurgents' Destroyed the shrine of Hajar Bin Adi a companion of the prophet.
مسجد و امام بارگاہ حسینیہؑ مکہ کالونی گلبرگ 3 لا ہور
Imam Bargah Hussainia was founded in 1975 in the holly month of Rajab. Mr. Syed inaugurated the msjid. It was handed over to Mian Muhammed Arshad, Syed Khadim Hussain Shah , Syed Asad Bukhari, Ashraf Hashmi and Ansar Hussain Jaffery to manage all the concerned activities. Building for Masjid and Ziaraat and
later on house for Imam Masjid was built. Arrangements were made to offer prayers five times a day, and celebration of specific days of fourteen Masoomeen. A great procession of Ghazi Abbas A.S is exercised from the house of Syed Khadim Hussain shah [street no 4, that is proceeded throughout the bazaar and ends at Imam Barrgah Hussainia with traditionally valor and enthusiasm.
First Sunday of each month (english) - انشاء اللہ
Latest News
Senior police officers among 13 killed as suicide bomber strikes Lahore
At least 13 people were killed and 85 injured when a suicide bomber struck Monday evening around 6pm outside the Punjab Assembly in Lahore during a protest, police officials said.
Read More
Terrorists Use Internet Café To Plan Attacks, Says IG Sindh Police
Inspector General of Police Sindh, Allah Dino alias AD Khwaja has said that the terrorists plan attacks through use of
Read More
| | |
| --- | --- |
| Masjid o Imam Bargah Hussainia External View | Masjid o Imam Bargah Hussainia Internal View |
| | |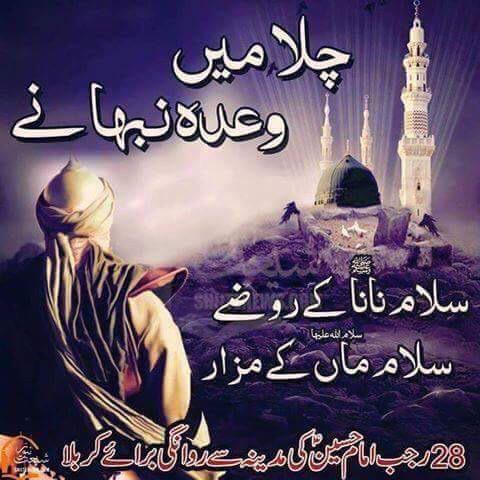 Popular web sites
www.shiiatnews.com
www.mwmsupportes.com
www.abna.ir
www.shaheedfoundation.org
www.eiwanbayan.com
www.nawa-e-islam.com
www.babulilm.com
www.shiatv.net
www.hazaratribe.com